The road has been long.  I've made mistakes, and most importantly,  I have learned a lot from them.  The first work on this room dates back to June of 2008 when I began rolling on Drylok on the bare foundation walls.
Here is what the room looked like way back then: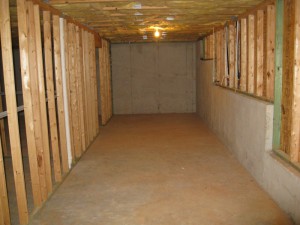 Here it is now from almost that same exact perspective, fully operational!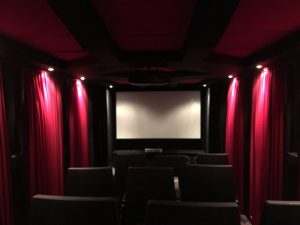 I debated for the last few months while watching movies sitting on a futon whether I wanted new or used seats.  New would be nice and clean but the ones I wanted were going to run me into the mid four figures for 13 seats.  One day a month or so ago I was surfing ebay and came across an auction for 10 used seats listed for 1/3 of the cost of new.  It certainly grabbed my attention!
They were listed through a site I had been shopping around before when looking at new ones, I just never really paid attention to their used section.  I reached out to them asking what the price tag would be for 13.  Long story short, I ordered from them.  As you can see in the pics, they arrived via freight and while I was warned they would be dirty, I wasn't expecting them to be DIRTY.  I think they were removed from a theater after other remodeling had already started.  They were sticky and just picking up the parts to put one together my hands turned grey and I stuck to whatever I touched.
So the weekend after I received them I unpacked everything and went after them with a pressure washer and carpet shampooer hose attachment.  They cleaned up GREAT!  All I used was a little vinegar in the water.  Some weren't too bad but some cushions clearly had met their share of soda.
I opted to offset one of the short rows to allow people to see between the heads of people in front of them.  If I had it to do all over again I most likely would have only done three rows of seats and had more rise between them.  But in the end, I'm beyond tickled with how the room turned out.  The only slight disappointment is that adding the seating has changed the acoustics just enough to irk me, they eat up the bass!  So I'll have to sit down and re EQ the subs to get more lows back into the room.  I will say though, the last row does go for a bit of a ride, it's my sweet spot second row middle seat that's now lacking.  Grr.
And with that, I thank you for following along on the journey, here's the last set of pics from this build.