Day 1: The drive down
We drove down the day before sailing and stayed in a condo on the water front near the cruise terminal. We packed up the car and headed south around 9am on Sunday morning. We stopped at Buc'ees and it was even more insane than the one my brother and I stopped at north of Atlanta on our way to Indy. The girls dashed in and out, I got some drinks and a brisket sandwich, it was yuuum.
Further down the road I was going to meet up with one of my scratch channel friends in Orlando but that wasn't lining up with their schedule so I audibled and we hung a left off I75 over to Jacksonville because it was going to shave an hour off our arrival time to the Cape.
Around Jacksonville Reid was wanting to try a ColdStone creamery, so we found one on the GPS and headed to it. It was in a Publix shopping center so I ducked in there and grabbed a couple of 500x tickets out of the Florida Lottery machine… Those are $50 tickets… More on those later.
On the way back to the highway I ducked into a gas station to fill up and noticed that the AC in the Volt had stopped blowing cold and I was hearing the dreaded 'hiss' behind the dash meaning it was basically dead. We finished the last 2 hours of the trip with the windows cracked open. Thankfully we were in Florida in April, not July!
We pulled up to the condo in Port Canaveral just before dinner time, got checked in, and decided to grab dinner at the waterfront restaurant next to the condo. Service was … horrible to say the least. Our server kept talking about how she's always so awesome and this place was new and the owners gave most of the staff the night off etc etc… whatever. The food wasn't too bad, we just let the service issue go and started to forget about the real world… well, sort of.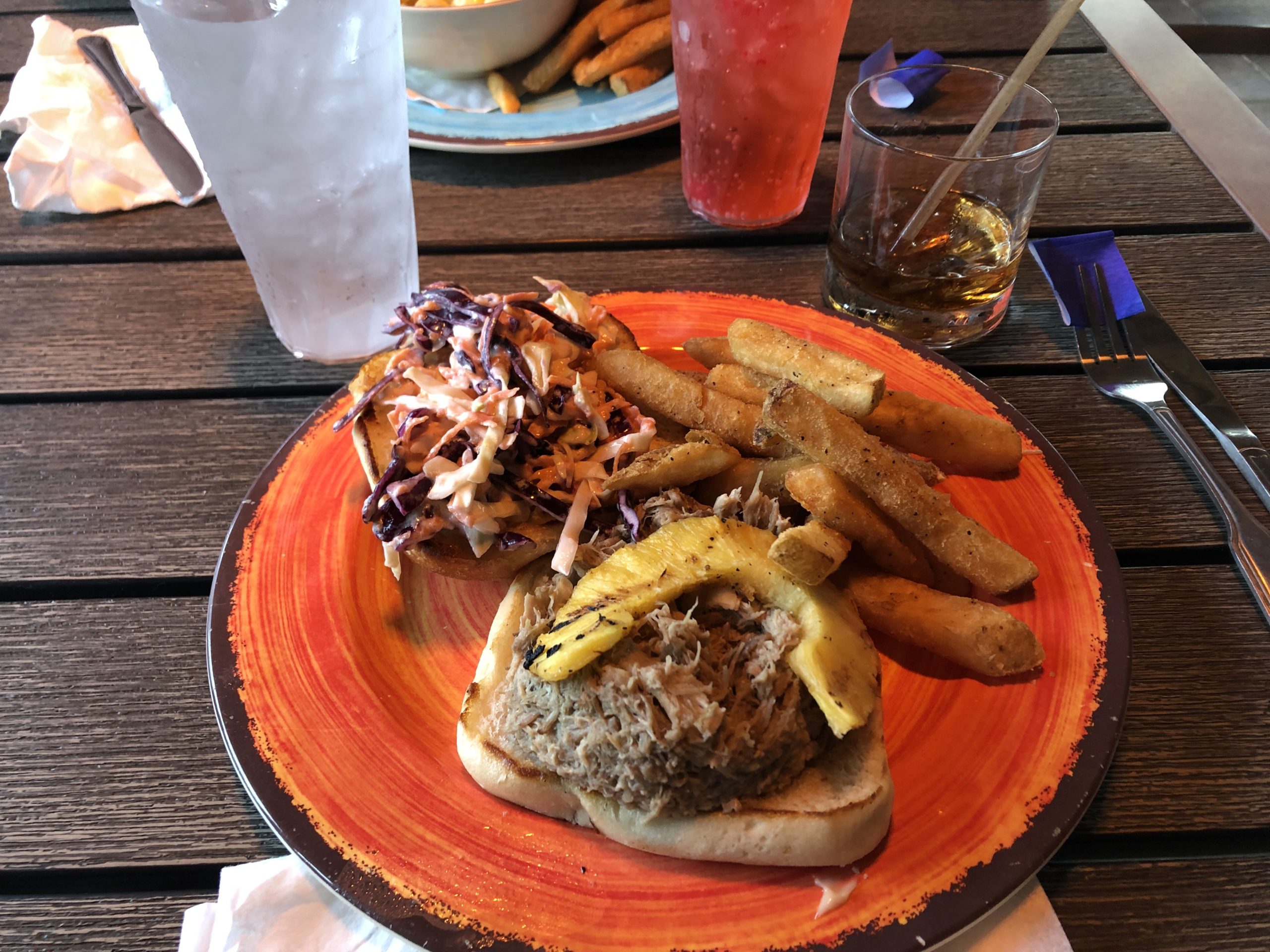 At that point we went back to the room and I filmed the loser 500x tickets… whee. Then I started trying to research what to do about the car while V and the kids sat on the balcony and watched boats and wildlife. Nothing I could do at 8pm on a Sunday so I let it go till morning knowing I'd have until after lunch to fiddle with it if I wanted to.
We loved the condo, it was our last night of separate bedrooms for a few days…

Day 2: Check in and sail, and first dinner.
We got up Monday morning and hit a local breakfast spot. While V and the kids were chit chatting I was digging around the internet and learning more and more headaches were headed my way on the AC, including that it's integral to drive battery management and should the batteries get too hot, they cook, and need replaced. I became less and less hungry by the minute. I kept reassuring myself it would be OK because the Voltec powertrain used in the Volt has an 8yr/100k mile warranty still in effect.
After breakfast we headed up the street so V and the kids could check out a thrift store and I had Autozone pull the codes out of it as by this point the check engine light was displaying. P0534 Low Refrigerant Charge… I debated trying to add a can of refrigerant to it but didn't want to risk putting something into it that would void the warranty on it. Everything I was reading was telling me to basically 'don't charge it' (not an issue being away from home) and to 'limp it home' via onboard generator, which I would have to do anyway.
As chance would have it, my uncle from California was going to be in Jacksonville on our way home on Friday so I texted him for the address and briefly looked to see if maybe I could get it there and let the local dealer see if maybe it just needed charged. Reading around even more, people with the same code indicated the fix requires a hard line to be replaced, so I said heck with it, double checked the forecasts and it was going to be 80 or less the whole way back home (and 50s-60's by the time we hit Athens) so limp it home was the call.
On to the port (after a stop at the beach)!!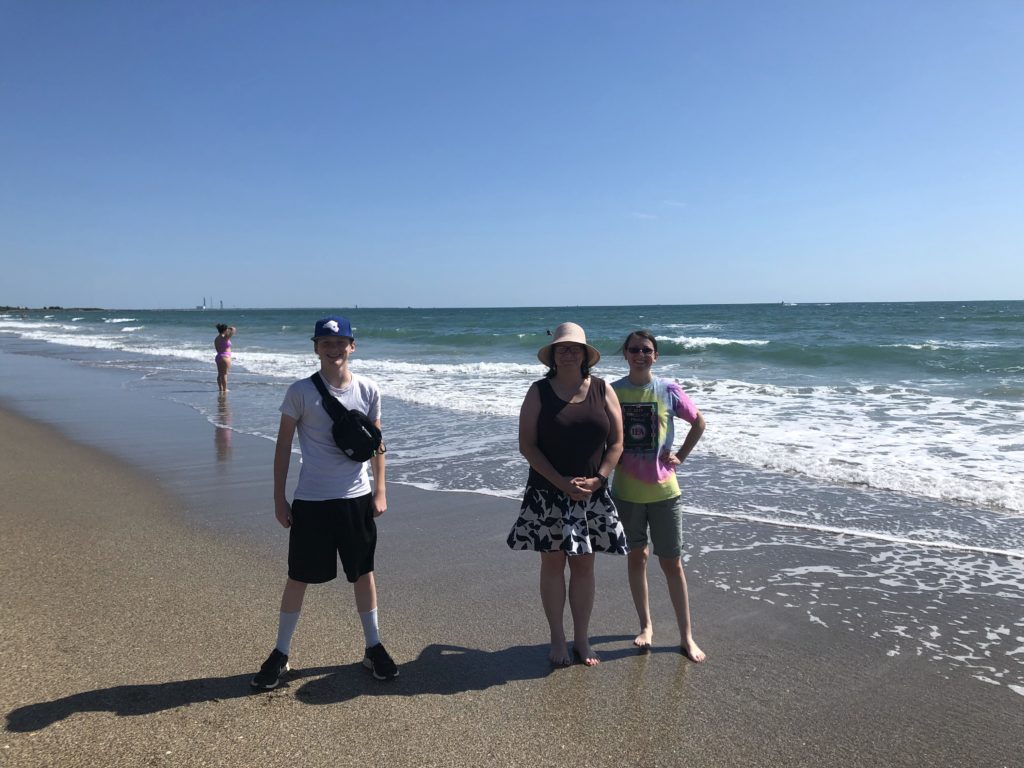 We headed towards the terminal and grabbed a light lunch on the water front. While looking around we noticed right across the water was a SpaceX booster sitting on one of their barges, WOW!!! Then as we were eating, their capsule recovery vessel and the other drone ship left port and sailed right by us! How cool!!
After lunch we headed over to the terminal. Our port arrival time was 1:15, we got there a little early and we had read that they will turn you away if you do that, but it was only 10-15 mins early so they took our bags and sent us into the line. Check in of course took forever due to everyone boarding having to take one of the instant (30 minute) covid tests. All members of the party had to pass, which we did but it was about 45 minutes between leaving our checked bags on the curb to get through the testing process and into the parking deck. Once in the deck, we all had to do the nose swabs then wait up to 30 minutes for the all clear email which we got. While driving up to the 4th level parking we noticed that about every other car had a Georgia tag! Hah!
We went into the terminal, showed all our papers, and got aboard ship, woohoo!!!
We got announced into the atrium and headed up to our muster station to do the 'check in' photo we had to take in the app to prove we knew where it was. Then we headed up to the room, checked everything out and went up to check out the top deck. By about that time we were shoving off and moving!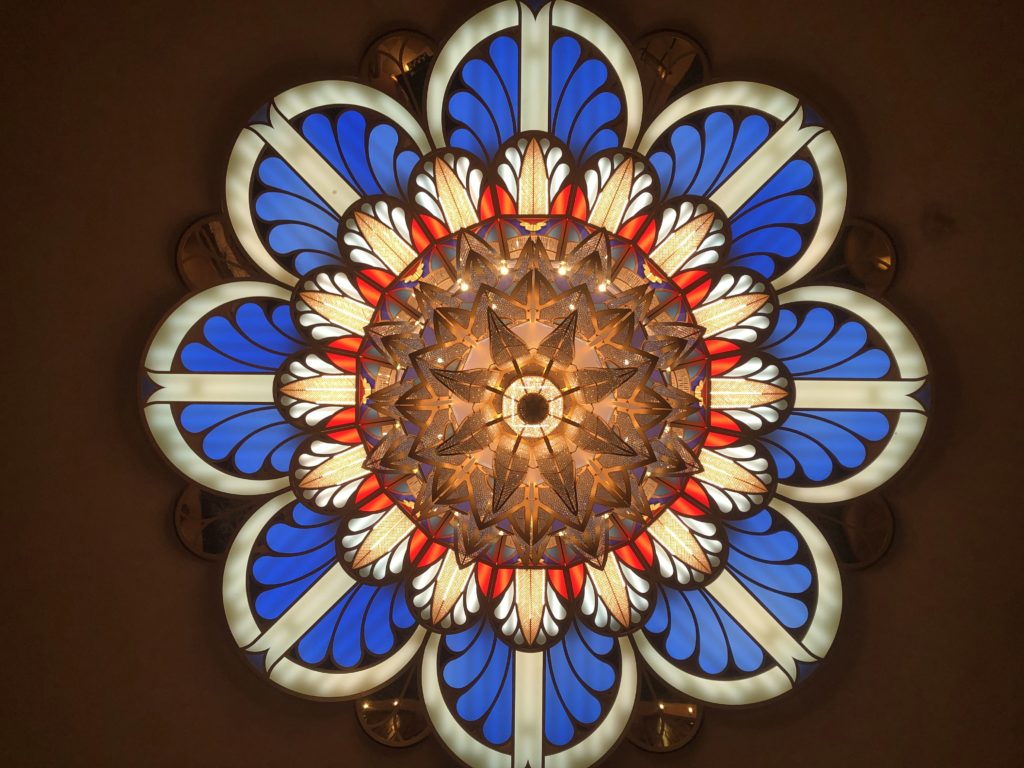 We sailed past the SpaceX booster and got better views of it, got out to sea and forgot about the real world, this was awesome!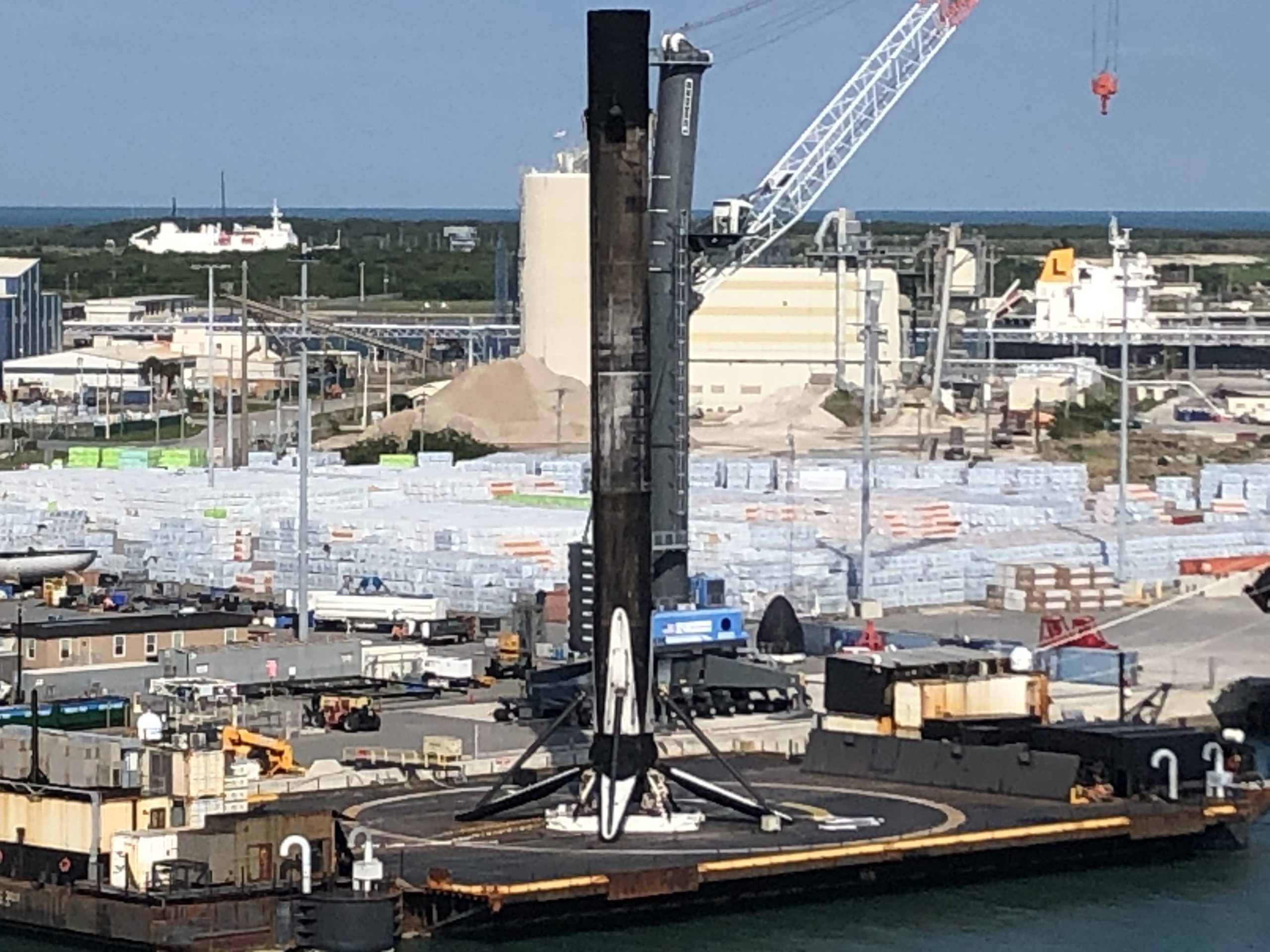 We looked around a few areas of the ship before dinner.
On to dinner. The cool thing about dinner is you 'rotate' through the three main dining rooms on the ship and you have the same server every night, so they get to know you and you get to have that familiarity with them. Fiona was our server and she was AMAZING! We all were sort of lost and she walked us through how things would work and made us feel at home. Meals are included on a Disney cruise unless you order specialty drinks (alcohol or other things like the kids smoothie of the day) and pro tip, if you cant pick which one of two (or three) items you want for any given course, just GET THEM ALL! The food was amazing, the entertainment in the room was fun too. Our first night was in the Artists Palette and they have screens everywhere that showed characters from Nemo etc.
We all ate away too much but it was so worth it. Fiona let us know that she would be up at the Enchanted Garden during breakfast and we could go there and ask for her area and they'd seat us wherever she was working. Done and done! We followed her the whole cruise (except lunches) like hungry puppys!
It was at this point Reid vanished into "Vibe" which is an area of the ship for 14-17 year olds only. The girls and I went to check out the ventriloquist who did a kid friendly show and then we just kinda wandered around to see what all was available to do.
We caught some z's, boat was running pretty smooth and slow on the way to Nassau. The whole next day was a sea day so they were taking their time. 7-8mph based on my phones GPS speedometer app.
Day 3: Sea day!
We got up and met up with Finoa and had breakfast in the Enchanted Garden, which was also going to be the dinner location that night for the kids, as V and I had a date in Palo… more on that later.
Breakfast was great! I got the Southern Hash, V got Eggs Benedict. They brought around pastries etc too. Food baby's were being made. Did I mention we ate a LOT?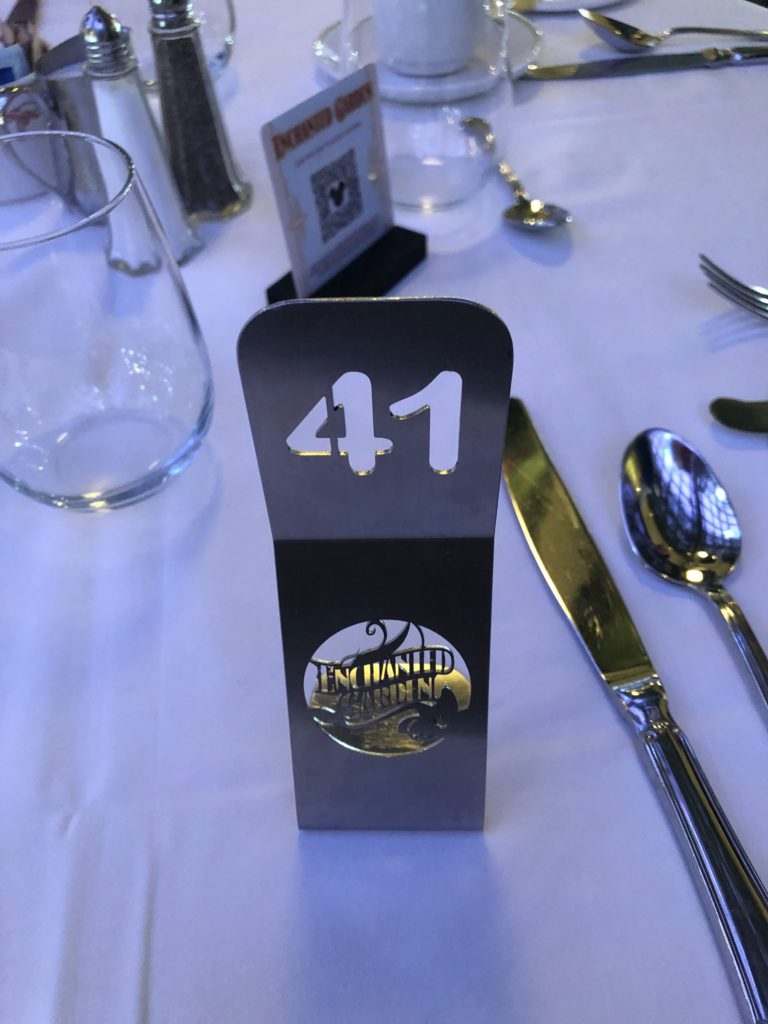 After breakfast we wandered around, sat on deck, took in some of the activities etc. There is a constant stream of things to do. Crafts, shows, a couple of tours, etc.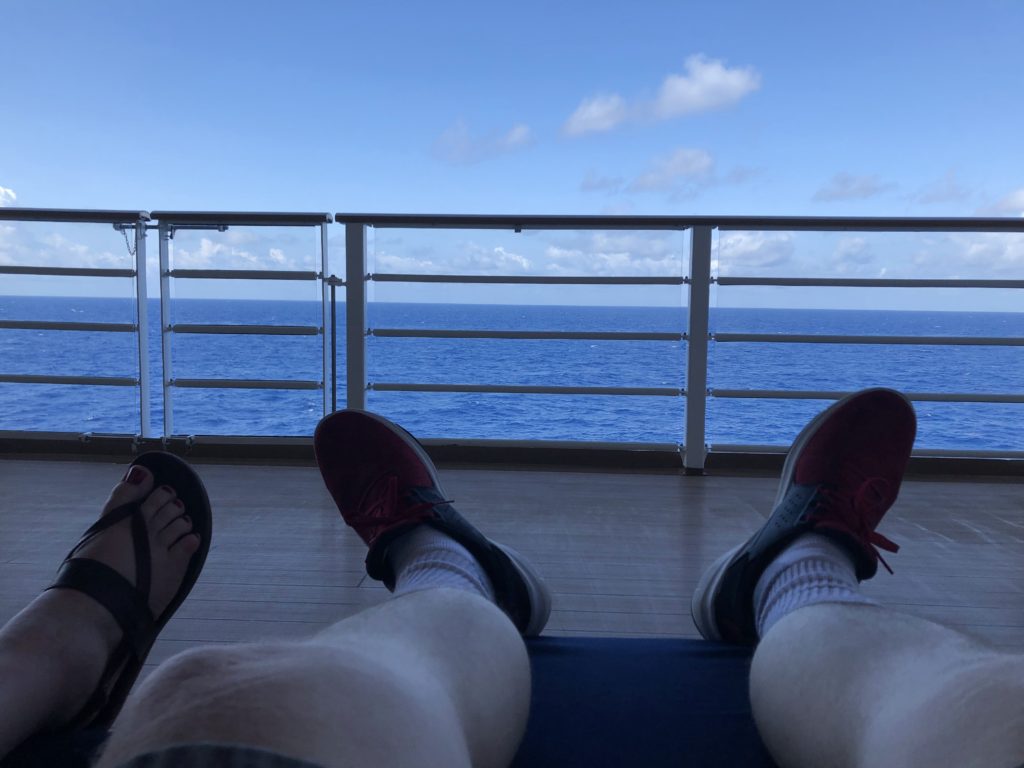 Come lunch time we met up at Cabanas which is their buffet style eating location. The food was "ok", about what you might expect from something like a Golden Corral but better, just not as good as the sit down restaurants. Even so, the food babies grew!
Fast forward to dinner time. V and I get cleaned up and fancy looking and we headed up to Palo which is their Italian themed adults only restaurant. Remy is on the other side of the ship from Palo and is even more fancy and French cuisine.
We were probably the 2nd or 3rd table seated and as the waiter was talking to us about how the menu works (flat rate 4 course with limited selections or cost-per-dish options) the fire alarm went off… I looked at V, she looked at me, we looked at the waiter, he looked at us, then looked over his shoulder, we all shrugged when we didn't see smoke and we resumed talking as the alarm was shut off. However, Palo is divided by a doorway that contains a fire door… When the alarm went off the fire door released and started to slide shut, splitting off the restaurant. They couldn't get the door to stay back in the wall when they pushed it back in… lol! So here comes what I will call a "Banana man", the crew that work on the ship doing maintenance type things and they wear yellow jumpsuits. He fiddled with it for a bit until what looked like the Palo manager came over to him, stood him up, quietly talked to him and basically told him to get the hell out. Banana man shrugged and gathered his tools and left. But the door wasn't staying in the wall, so the manager picked one of the wait staff to stand in the doorway and hold the door in the wall the rest of the evening. Dedication to keep the atmosphere professional, go Disney!
The food we had was AMAZING, even more amazing than the sit down restaurant the night before. I highly recommend their steak. V got one, I got the Osso Bucco which is a veal steak cooked in a way that made it taste like a really good piece of stew meat. When I tried a bite of her steak though, it was then that I realized I chose poorly. They have a 28oz porterhouse that they serve pre-sliced for two people to share. If we ever go again, that's what we're going to get!
After that, we got back into 'street cloths' and explored the ship some more etc. Reid once again vanished into Vibe, the girls took in Beauty and the Beast, I took in a Bourbon tasting.
Day 4, Nassau in the Bahamas!
We woke up to the vibrations of the ship preparing to dock. We went up on deck to watch the activities and were surprised to see we were coming in next to the USS Porter, a Navy Destroyer. Cool!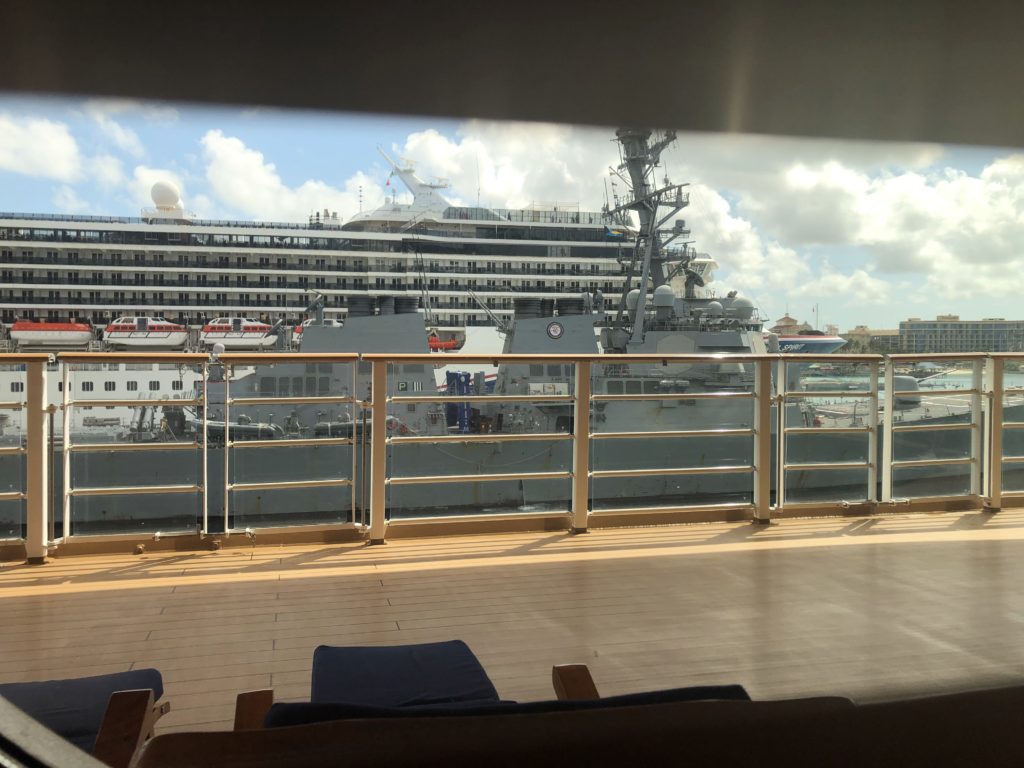 We got breakfast, this time we just did the quick one at Cabanas because we had an excursion to get to by 8:45 so we didn't have time for a sit-down with Ms. Fiona.
We gathered in the Walt Disney Theater and left the ship with the rest of our group. Reid, Kayla and myself all did a rather uncoordinated holding of hands and stepping off the gang plank onto the concrete dock at the same time because it was all of our first time setting foot in another country. V had been on a cruise before so she stayed back and laughed at us. Lol!
We hopped into a small catamaran and went out a mile or two between the main island and paradise island and listened to the facts along the way. We stopped and fed fish, turned around and headed back. It was a great little ride!
Then they broke us up into some smaller groups and we loaded into a 20-person van for a tour of the island. I'll say it here now, there's no way I could drive in Nassau. Honking and mirrors almost touching etc, not for me!
First stop after touring some of the city near the dock was the Atlantis hotel. We were told we needed to show our covid vax cards to go into the hotel. WTF! All they told us we would need off ship was our ID and room card. The girls of course were organized and had photos of their cards in their phone. Me, Reid and probably 8 other people were all in the same boat, we were about to have to stand there the 30 minutes and do nothing.. The security lady said we could get on the hotel wifi to access things, so I got on, went into the pre-boarding screening site and pulled up our results, whew! 15 minutes lost though. So Reid and I hustled in to see if we could find the girls. The driver had given them two $25 casino chips to cash out for him. Bahamians are forbidden by law from gambling due to low wages and someone had tipped him a couple of chips. He asked them to cash them out for him. We went in and didn't see them and naturally I was like "I'm here, might as well try real quick" and threw a $20 bill into a slot machine. About 60 seconds later a casino worker walked over and asked me how old Reid was (there were kids coming in and out of the place when we walked in so I didn't know where was an age limit), I said "he's 15 and we are just about to leave because I'm final button push broke!" I now have a souvenir Atlantis Casino voucher for $.46
We got back on the bus and rode around to the next stop. It was then that I had realized I forgot to warn the kids about the high pressure tourist trap 'shops' because it was a barrage of "come check out my store!" every two feet. The kids got a couple of wood carved items, I strolled off as quick as I could away from the shops and went down the 'Queens Staircase' which I think was just another trap to get tips from folks, but it was neat.
Next stop was a Rumcake factory, we got a 'six pack' of them and I got a bottle of hot sauce, and V and I shared a free shot of Rum for buying the cakes. Not a bad stop! At that point it was back to the ship, not really any security checks other than a quick look at our ID's and an xray of the bags, back in air conditioning we were.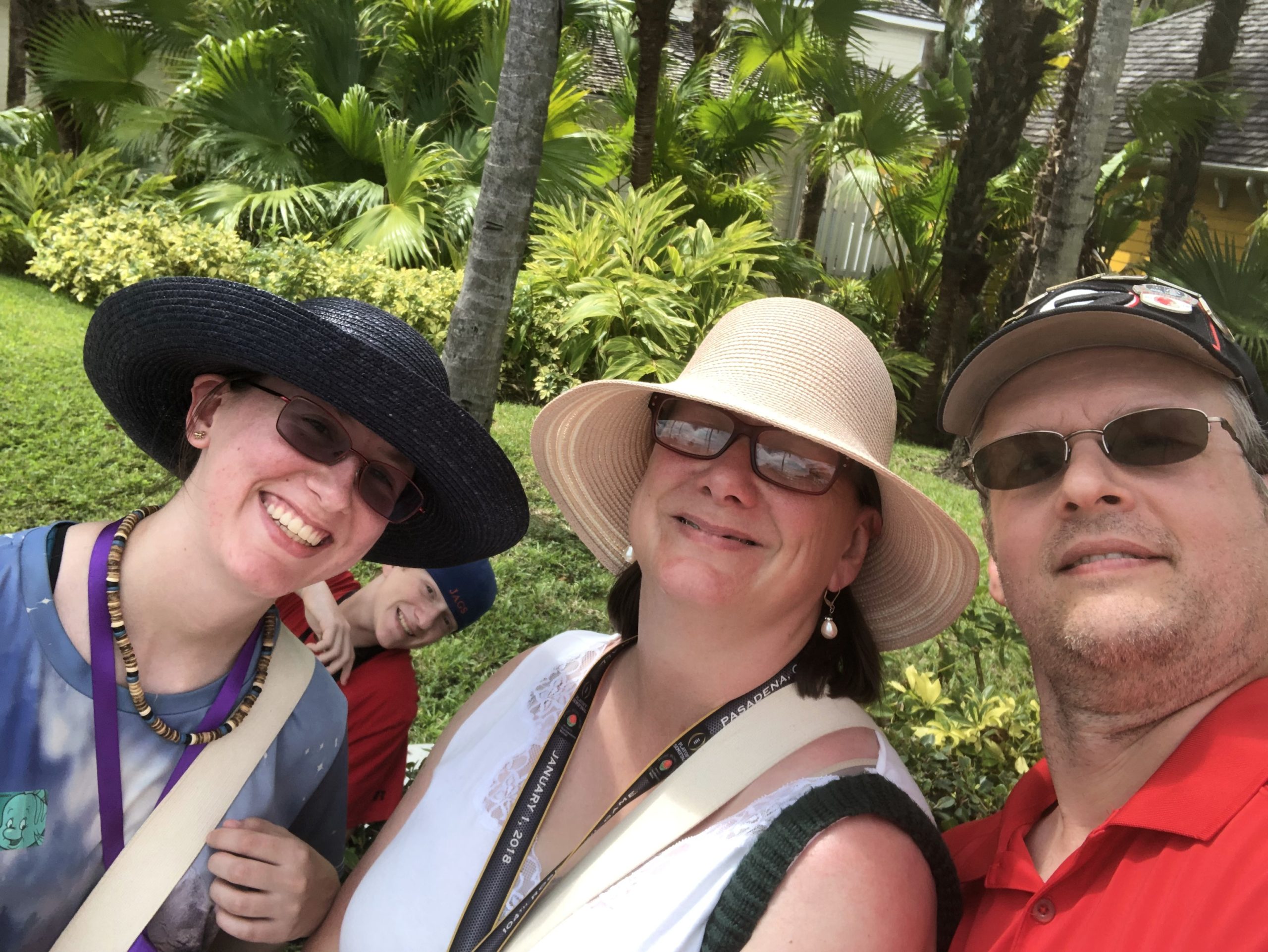 Dinner that night was in Enchanted Garden. Food was good. We turned our food babies into triplets and went on about our evening.
Day 5: Castaway Cay (Pronounced Key)
We were woken up by the rumble of the ship spinning around and backing into port at Disneys 'private island'. We had a glass bottom tour booked but all excursions were cancelled due to high wind and choppy water. We hit breakfast with Ms. Fiona again and she let us know she would be at one of the lunch BBQ huts "Cookies One".
We hopped off the ship and headed to the 'family beach' and grabbed some chairs. Reid vanished with one of the girls he made friends with in Vibe but he was usually in visual distance. The girls and I headed down and hopped into the water and waded around a bit. It was a little chilly but OK once you got used to it. We opted to not do any of the equipment rentals, we just wanted to chill out. V hopped out of the water and Kayla and I puttered around to see how deep it got… it got deep enough you couldn't touch bottom. I got out, Kayla stayed behind to play sand village construction with a group of kids.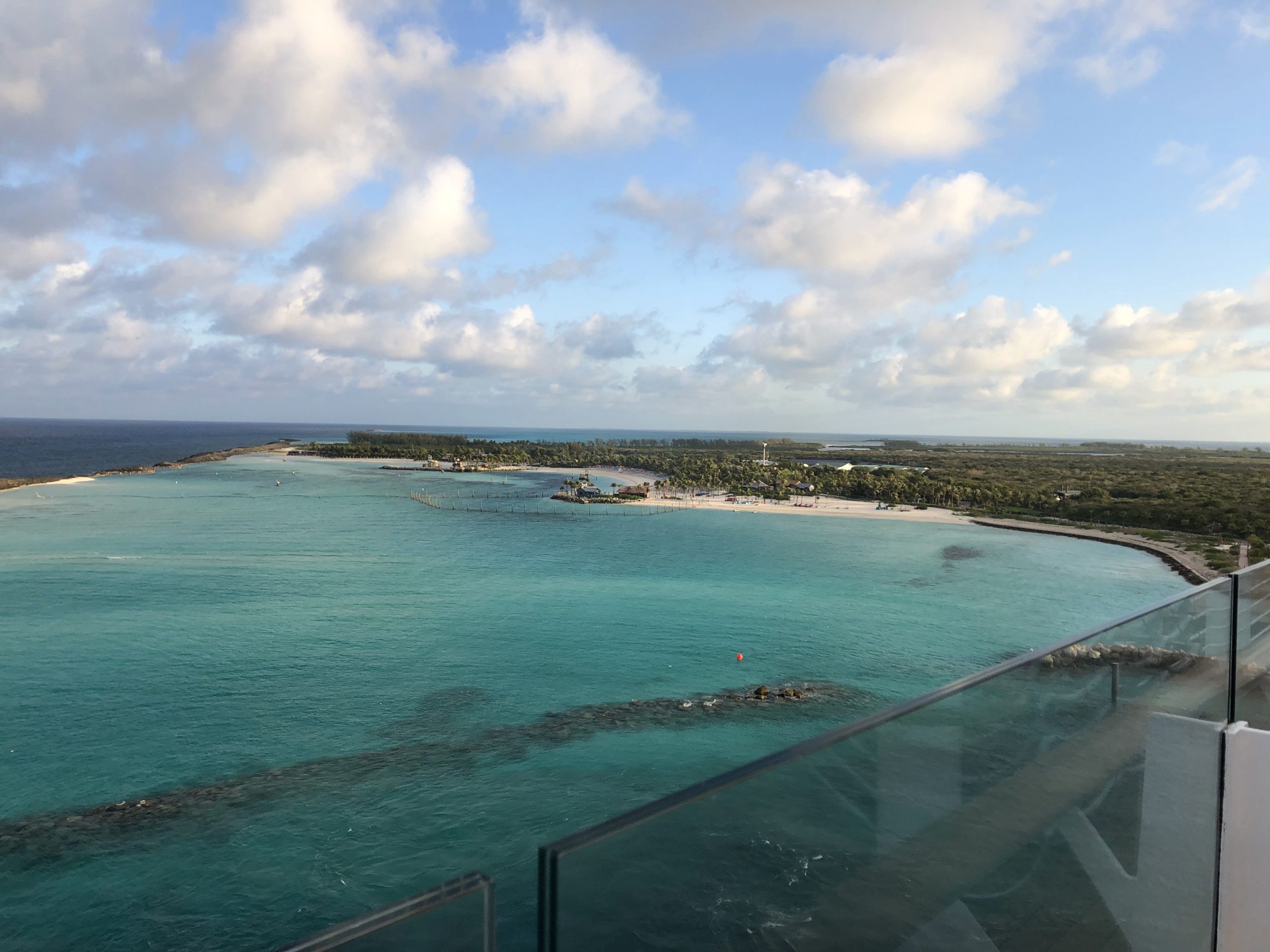 We grabbed lunch which wasn't bad. Self serve BBQ/cookout type stuff. At that point the girls and I decided to hop onto the tram and ride over to the other side of the island to the adults only beach. It. Was. Beautiful. Crystal clear light blue water, waist to chest deep as far out as you would care to walk. Someone heading towards shore asked if we saw the starfish, I said no and headed out in the direction they were coming from. I could see bottom pretty well and was looking for your stereotypical hand size thin starfish. I wasn't seeing any and thought I was getting punked. As I was about to turn around and wander back to shore I noticed a big dark spot about 20 feet from me "let me go look at that rock", and the closer I got, I slowly realized it was a HUGE starfish, bigger than a dinner plate! I looked up and looked around and saw a lot more of those dark spots. I called the girls over and we walked around looking at several of them, it was COOL!
After we all wandered out of the water back to the seats we claimed (and laid out and took a quick 20 min cat nap) we headed back to ship, took showers and got ready for dinner.
Dinner that night was at the Royal Palace for Pirate night. The pirate takeover was campy but the kids in the room loved it! The food was great as usual. I think by that point we were all expecting quintuplets!
The girls and I took in the adults only version of the ventriloquist, it was much better than her kid friendly version!
The kids and I met up for the fireworks at 10:30, it was a small display, but nice. A great end to a great day!
Day 6: Back on land!
We got woken up yet again by the rumble of the ship spinning around and backing into port. We had a 7:00 breakfast time, met up with Ms. Fiona one last time, had a quick breakfast and left the ship. It was a lot quicker than I had expected, no customs check other than showing ID's.
We hopped into the car, aimed for Jacksonville to meet up with my uncle. The Volt performed well, we had no issues. We spent about an hour or so chatting with my Uncle, which oddly enough was visiting my aunts son's house literally 8 miles from the Publix/ColdStone we stopped at on DAY 1 OF THE TRIP! Talk about twilight zone! Hah!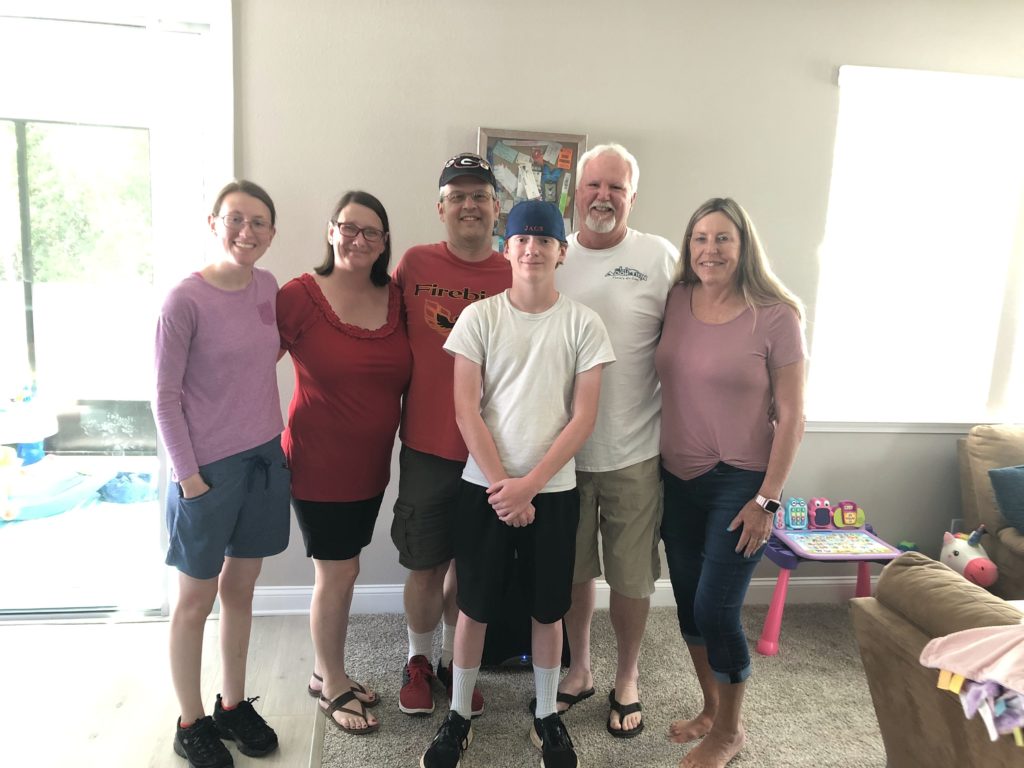 We made a few pit stops on the way home, we pulled into the drive way around 7:30 PM, we all threw open the doors and got blasted by COLD AIR and almost all shut them and headed back south!
All in all, a great trip, cant wait to do it again!